Customize a Lease Agreement
Leasing your rental property monthly or annually, you can customize your own lease agreement to specifically fit your needs. The best part? It's an unlimited service. Specify your terms, security deposit, permitted occupants, pets and animals, parking space, utilities, maintenance, official correspondence address and more. Each lease can be saved as a pdf or printed for your immediate use. As a courtesy, all customized agreements are stored for 30 days for later retrieval. We even offer rental applications that can be built section by section and feature your own logo and contact information.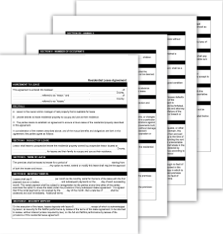 Try Creating a Lease Agreement
Every standard account includes the option of customizing your own form and seeing exactly how it will look. You can edit endlessly until you get it just right to print and have your applicant sign it. Our lease even features the ability to upload your logo and add your contact information on the top.